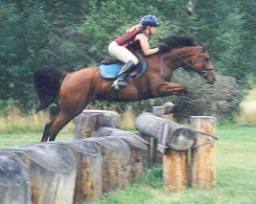 Marque--1996 15.1 bay gelding competing in USEA (previously USCTA) recognized events in 2002.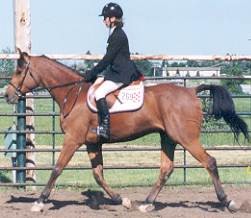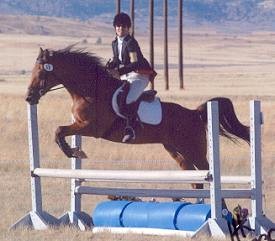 MARQUE-ABOVE AND RIGHT

Marque is a 1996 bay gelding 15.1 hh by Kouvay Bey. He is a very "honest" jumper having spent many days in cross country and stadium jump training including training with a former Canadian Pan-Am Gold medalist. He is currently schooling training level - jumps anything, quiet & doesn't rush the fences. He has nice long strides in all gaits with excellent movement. He is extremely smart and is very affectionate! He has logged many miles of trail riding in the mountains and and on trails, ridden by kids & adults. Sweepstakes nominated. Video available. AHR #0527867

$15,000.OO/USD

Offers Considered
In 2003, Marque qualified for the USEA Beginner Novice Championships in Utah by placing in the top 3 of an event of eighteen exhibitors--with no jumping faults. (3rd).

Marque's sire is a Bey Shah son out of an *Aladdin daughter; sire's dam line goes to Rohara--Ivanhoe-Fyre Basque breeding.
Marque's dam is Angelette, by Krakov, an Aswan son (x Nazeer). Dam's dam line to Garis.
Complete pedigree upon request.





Below--Kgyu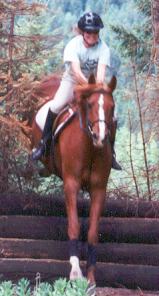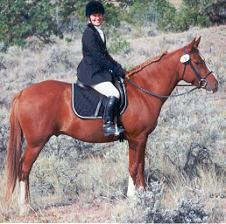 KGYU is another example of the owners of Marque horses. He is not for sale at this time.

Eventing prospect Arabian mare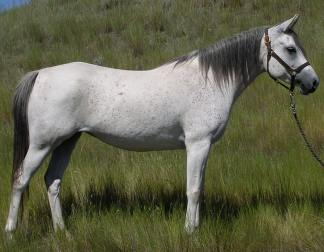 Brieshara
Brieshara is a very striking 1997 grey, 14.2hh, 1/2 Egyptian mare with Padron breeding on her dam's side. She is an extremely nice mare, very correct with a gorgeous head and blood lines that would make her outstanding for breeding. She has been trail ridden and started over cross rails and shown in 4-H. She is a very friendly and non-aggressive mare. Lots of top horses in her pedigree: El Hilal, Nazeer, Bint Moniet El Nefous, Ansata Ibn Halima, Padron, Bask & Tuhotmos.
Above information provided by owners.
Videos and more pictures available.
L.Robinson, agent
(580)-678-5051